Divorce Lawyers Berkhamsted, Amersham & Beaconsfield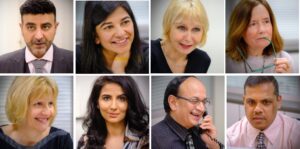 The Breakthrough Family Law Solicitors Team
At Breakthrough Family Law we know how stressful going through divorce proceedings can be, especially if there are
children
involved. Our divorce solicitors have years of experience representing a wide range of clients. We can guide you through the relevant legal processes in a clear and simple way, helping you to protect yourself and your family and preserve your assets.
"I would like to express my gratitude and appreciation for your professional service throughout my divorce process."
R Stratton
Call us now on 01494 776 696 or Click here to make an online enquiry and you will soon be talking with one of our family law specialists.
What are the grounds for divorce in the UK?
The court must be satisfied that your marriage has irretrievably broken down, and there are five grounds that can be used to demonstrate this:
Adultery
Unreasonable behaviour
Two years separation with the consent of the other spouse
Five years separation
Desertion
Although there is much discussion at present in Parliament and elsewhere as to the future requirements for divorce proceedings, at present it is still necessary for a Petitioner to prove one of the five grounds for divorce, set out above, to the satisfaction of the court.
Who are the 'Petitioner' and 'Respondent'?
The party who issues the petition to start divorce proceedings is known as the Petitioner. The other spouse, who receives the divorce proceedings, is known as the Respondent.
Is it better to be the Petitioner or Respondent in divorce proceedings?
It is generally not advisable to spend too much time worrying about this; doing so can lead to substantial legal bills as you and your solicitor negotiate this with your spouse. It is better to focus on the divorce proceedings as a whole. If your marriage has irretrievably broken down, the divorce proceedings intend to help you sort out the important issues arising from this change in circumstances. This will include reaching a financial settlement and finding agreement on how your children will be taken care of.
What happens once the Petitioner begins the divorce proceedings?
The petition is then issued by the court and sent to the Respondent. Divorce proceedings are now underway. The Respondent must complete an Acknowledgment of Service indicating (among other things) whether they intend to accept or defend the proceedings. In the majority of cases, proceedings will be accepted. Assuming this is the case, the Petitioner must complete a statement in support of the divorce petition. This is sent to the court along with an application for a Decree Nisi.
What is a Decree Nisi?
This is a document issued by the court stating that it sees no reason why the parties involved cannot divorce. This document is particularly important as no decision can be made about a financial settlement until the Decree Nisi has been granted by the court.
What happens after the Decree Nisi has been granted?
The next stage involves the Petitioner applying to the court for a Decree Absolute, which finalises the divorce proceedings. However, we advise clients to wait until a financial settlement has been agreed before applying for a Decree Absolute. An agreement can be reached by way of a consent order or by another order of the court. Finalising a divorce before you and your spouse have agreed on financial matters can potentially be very damaging to one of the parties.
Once financial agreement has been reached, when can I apply for a Decree Absolute?
The earliest date that an application can be made for a Decree Absolute is six weeks and one day after the Decree Nisi has been granted by the court.
Will the parties' behaviour be considered when deciding how assets should be shared after the divorce?
It is rarely the case that one of the parties' behaviour will be considered so 'gross and obvious' that they would have to give more financial provision to the other party than would normally be required under the usual guidelines for the division of assets. When it comes to negotiating on arrangements for looking after and supporting your children, our lawyers strive to keep parties' behaviour out of account. This is to make sure that, even though your marriage has come to an end, a carefully planned and workable solution can be found to ensure the best for your children. If behaviour exists that would affect the outcome for you financially or for your children, we will obviously give this appropriate consideration. However, our goal is to help you through the divorce process as efficiently and painlessly as possible to allow you to focus on the most important aspects of your situation.
Serving family law clients across Bucks, Berks, Herts & Middlesex
Our specialist family law solicitors serve our clients across Bucks, Berks, Herts and Middlesex.
Some clients work with us remotely, others we can visit at home or they can visit our offices in Amersham, Beaconsfield, Berkhamsted, Chesham, Chorleywood, Gerrard's Cross, High Wycombe, Rickmansworth or The Chalfonts.
Wherever you are, let Breakthrough Family Law provide you with the specialist advice that you need.
Read all about the No Fault Divorce – What is it and what do you need to know about it – https://www.breakthroughfls.com/what-is-the-new-no-fault-divorce-and-what-do-you-need-to-know-about-it/
Make An Enquiry Today
To ensure you receive the best family law advice available, please call us now on 01494 776 696 or Make An Online Enquiry and we will get back to you right away.
We inspire trust and confidence in our clients by offering high-quality advice in a clear, straightforward and compassionate manner.
"Thank you for helping me close this chapter of my life. It's been a pleasure working with you. you have been very efficient and professional throughout this process. The whole approach made an uncomfortable and unfortunate process a great deal easier! Thank you."
S I