Divorce Lawyers Berkhamsted, Amersham & Beaconsfield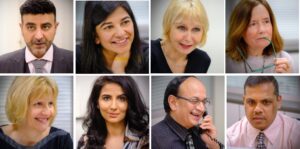 The Breakthrough Family Law Solicitors Team
Getting a divorce in England has become more straightforward following a significant change to the divorce law that came into effect on 6 April 2022. However, there is a still a strict process you need to go through so it is not only important to take legal advice to understand the process but to also understand the implications of a divorce.
You can get divorced in England or Wales provided the following applies:
You've been married for over a year
Your relationship has permanently broken down
Your marriage is legally recognised here
One or both of you must live or usually have a permanent home in England and Wales
What are the grounds for divorce?
From 6 April 2022 you can get divorced solely on the basis that the marriage has irretrievably broken down, without citing blame on your spouse.
Serving family law clients across Bucks, Berks, Herts & Middlesex
Our specialist family law solicitors serve our clients across Bucks, Berks, Herts and Middlesex.
Some clients work with us remotely, others we can visit at home or they can visit our offices in Amersham, Beaconsfield, Berkhamsted, Chesham, Chorleywood, Gerrard's Cross, High Wycombe, Rickmansworth or The Chalfonts.
Wherever you are, let Breakthrough Family Law provide you with the specialist advice that you need.
Read all about the No Fault Divorce – What is it and what do you need to know about it.
Make An Enquiry Today
To ensure you receive the best family law advice available, please call us now on 01494 776696 or Make An Online Enquiry and we will get back to you right away.
We inspire trust and confidence in our clients by offering high-quality advice in a clear, straightforward and compassionate manner.