International Divorce Lawyers Berkhamsted, Amersham & Beaconsfield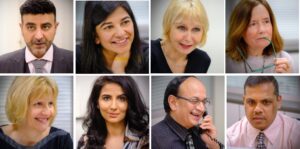 The Breakthrough Family Law Solicitors Team
At Breakthrough Family Law we know how stressful going through divorce proceedings can be, especially if there are
children
involved. Our divorce solicitors have years of experience representing a wide range of clients. We can guide you through the relevant legal processes in a clear and simple way, helping you to protect yourself and your family and preserve your assets.
What is international divorce?
When you apply for a divorce in a country other than where you are living, or where your permanent home is, this is known as an international divorce. This might happen because you live abroad for work, or because you and your ex end up living in different countries or because you have different nationalities.
Can I get a divorce in the UK if my marriage took place overseas?
Where you got married is irrelevant as long as the marriage is valid under the laws of the country where the marriage took place. You can get divorced in England as long as you or your spouse are habitually resident in England or domiciled here.


Serving family law clients across Bucks, Berks, Herts & Middlesex
Our specialist family law solicitors serve our clients across Bucks, Berks, Herts and Middlesex.
Some clients work with us remotely, others we can visit at home or they can visit our offices in Amersham, Beaconsfield, Berkhamsted, Chesham, Chorleywood, Gerrard's Cross, High Wycombe, Rickmansworth or The Chalfonts.
Wherever you are, let Breakthrough Family Law provide you with the specialist advice that you need.
Read all about the No Fault Divorce – What is it and what do you need to know about it.
Make An Enquiry Today
To ensure you receive the best family law advice available, please call us now on 01494 776 696 or Make An Online Enquiry and we will get back to you right away.
We inspire trust and confidence in our clients by offering high-quality advice in a clear, straightforward and compassionate manner.