Cohabitants Rights Lawyers Berkhamsted, Amersham & Beaconsfield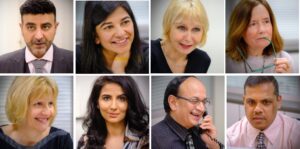 The ending of a relationship can create many difficulties for cohabiting couples. One of the biggest challenges will be deciding how land and property is to be divided up, working out who gets to keep what after the divorce or separation is finalised. Getting the right legal advice can go a long way to help resolve these problems as quickly and as straightforwardly as possible.
If you are considering a cohabitation agreement or your relationship has come to an end, our lawyers will help protect your rights. We will put a robust strategy in place to safeguard your assets and ensure you maintain regular
access to your children
, through fair and considerate negotiations.
Does my former cohabiting partner have automatic rights to my assets?
If you have been living with your partner as an unmarried couple, they do not have any automatic rights to your property or assets if the relationship ends. Similarly, they do not gain any rights to maintenance payments from you or access to your pension once you separate.
What is the legal process for deciding who gets what once a cohabiting couple separate?
There is no recognised legal process to decide this. Couples who have been married have the right to make a range of financial claims under the Matrimonial Clauses Act 1973, but there is no equivalent for couples who are not married. As a result, you cannot go to court to ask a judge to make a financial order in the same way a married couple can.
What happens if a cohabiting couple jointly owns property?
If your home is registered in the Land Registry in joint names, either of you can apply to the court for an order. What will happen to the property will depend on how you and your ex-partner 'held' the property. The property will either be held as joint tenants or as tenants in common in equal or unequal shares. If it is held as joint tenants, the property will be sold and the profits shared equally between the two of you, unless there is a dispute that requires the court to decide on a different share. If it is held in common, the proceeds will be shared between you according to your share in the property.


Serving family law clients across Bucks, Berks, Herts & Middlesex
Our specialist family law solicitors serve our clients across Bucks, Berks, Herts and Middlesex.
Some clients work with us remotely, others we can visit at home or they can visit our offices in Amersham, Beaconsfield, Berkhamsted, Chesham, Chorleywood, Gerrard's Cross, High Wycombe, Rickmansworth or The Chalfonts.
Wherever you are, let Breakthrough Family Law provide you with the specialist advice that you need.
Make An Enquiry Today
To ensure you receive the best family law advice available, please call us now on 01494 776696 or Make An Online Enquiry and we will get back to you right away.
We inspire trust and confidence in our clients by offering high-quality advice in a clear, straightforward and compassionate manner.