Separation Agreements Lawyers Berkhamsted, Amersham & Beaconsfield
Discover all you need to know about Separation Agreements?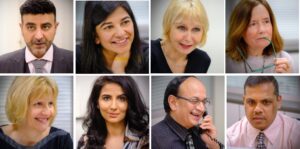 People who are already married or are in civil partnership can enter  into written separation agreements which record the parties wish to live apart and sets out what they intend to happen to their money, property, children and other practical issues as a consequence of their current or planned separation. This written agreement is called separation agreement.
Separation Agreements are usually entered into by parties who are separating, but who do not want to divorce or dissolve their civil partnership at that time.
These are different to Maintenance Agreements which specifically details the payment of maintenance for the benefit of others but does not deal with the separation of the parties.
A separation agreement is a contractual agreement between the parties to a marriage or civil partnership dealing with:
your agreement to live apart
your obligations to maintain one another and any children
the distribution of your assets, and
arrangements for any dependent children
"Thank you for helping me close this chapter of my life. It's been a pleasure working with you. you have been very efficient and professional throughout this process. The whole approach made an uncomfortable and unfortunate process a great deal easier! Thank you."
SI
Are Separation Agreements Legally Binding?
Separation Agreements are contracts and as such, are enforceable through civil litigation but this is often not cost effective or a quick process. It is therefore critical to note Separation Agreements are not binding on the court in the event of a later divorce or dissolution.
Parties to a marriage or civil partnership cannot exclude a court's jurisdiction to make orders for financial provision upon divorce or dissolution and the court is entitled to overrule an agreement between parties in certain circumstances.
Nevertheless, the existence of a Separation Agreement will be one of the factors that the court considers and it often gives great weight to these in determining the outcome of either party's application for financial remedy, depending on the precise circumstances surrounding the completion of the agreement.
The court's role will be to decide whether the agreement is 'fair'. Agreements are more likely to be considered to be fair if they are recent, if circumstances have not materially changed and if it can be evidenced the parties knew exactly what they were agreeing to when the separation agreement was made, both legally and financially, without undue pressure being applied.
What Are the Advantages of a Separation Agreement?
There are many advantages to getting a Separation Agreement.
Separation Agreements are flexible and can be adapted exactly to the specific circumstances of the individuals.
The parties retain full control of the process and this can actually make the divorce process smoother, cheaper and less stressful for all involved.
It gives you time to decide if you really want to divorce. Legally separating can feel less permanent and severe and means you can live apart while still being married, should you decide that a divorce is not really what you want after a period of time.
It allows you to separate if you cannot divorce.
If you have been married for less than a year and decide that things are not working.
It allows you to easily make arrangements for children
It makes Divorce and life after Divorce easier, particularly if court processes can be avoided and costs can be reduced.
Are you thinking of applying for a legal separation?
Make An Enquiry Today
To ensure you receive the best family law advice available, please call us now on 01494 776 696 or Make An Online Enquiry and we will get back to you right away.
We inspire trust and confidence in our clients by offering high- quality advice in a clear, straightforward and compassionate manner.
"The team were very sensitive and understanding about my background and the cultural issues involved. I felt safe in their hands."
SM
"Very quick turnaround, clear and sensible approach and very supportive!"
SL