Family Mediation Solicitors Berkhamsted, Amersham & Beaconsfield
Mediation is a process designed to assist separating couples reach a mutually acceptable agreement, with the skilled help and assistance of a qualified and experienced mediator.
How does mediation work?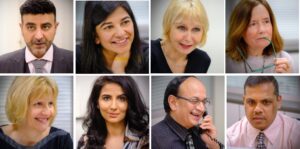 You and your partner or spouse must firstly agree to use this method. Following contact, a mediator will arrange to see both of you separately for a brief assessment before holding sessions with both of you to work on resolving your issues. These sessions are generally 90 minutes long.
The mediator's role is to help facilitate a proposal leading to an agreement. You can combine legal advice with the mediation sessions to assist your understanding. Once you have both reached an acceptable proposal, the mediator will draft the proposal documentation. This can in turn be 'legalised' by incorporating the proposal into an Order of the Court by Consent as part of divorce proceedings.
What is the mediator's role?
The mediator does not take sides or 'represent' either of you. However, the mediator will also ensure that you are both comfortable with the content of the sessions and will support either one of you where it is needed. It is paramount that the space and time used for the mediation sessions is used effectively and that conflict is limited. The mediator will remain impartial, respectful and understanding of a process which can be emotionally painful and difficult.
What are the advantages of mediation?
It is cheaper and quicker than using solicitors to represent you to negotiate a settlement
It is much cheaper and quicker than going to court
It reduces tension and conflict by encouraging co-operation
It is preferable for the children with a reduction of conflict
You take control of the proposal you wish to reach
It is less stressful
It will teach you how to improve the communication between you
You can combine mediation with legal advice
What sort of problems can be mediated?
Family mediation is suitable for a range of family problems. The following issues are common in a successful mediation:
Who the children will live with and when
How the assets and finances are divided
How ongoing maintenance for children and/or a spouse can be worked out
MIAMS: Why is this important?
If you cannot resolve the difficulties with your former spouse or partner, you may be thinking about taking your matter to court. However, before an application can be made to court, you are now obliged to attend a Mediation Information Assessment Meeting (MIAM). The aim of the meeting is to see if mediation could be used to resolve your difficulties, rather than going straight to court.
The court needs to know that mediation has been considered before they will process your application.
What is a Mediation Information and Assessment Meeting?
The MIAM is a meeting between you and a mediator to find out if there are alternative ways to find solutions to your problems other than going to court.
The mediator will explain to you:
what your options may be
what mediation is, and how it works
the benefits of mediation and other appropriate forms of resolving disputes
the likely costs of using mediation
if you are eligible for free mediation and Legal Aid
The meeting can be between the mediator and just you, or your ex-partner can attend. The mediator will be able to tell you if mediation is likely to work for you. If it is, he or she will advise you of the next steps.
What happens if mediation does not go ahead?
If, after your MIAM, it is considered that mediation is not suitable in your case, the mediator will give you a form which will be completed and signed by the mediator. This form confirms that you have attended a MIAM and will form part of your application to court for a Financial Order.
What is Family Mediation? Watch our short video.
"I had no hesitation in recommending Breakthrough to my friend. I only wish I had used them myself… They had acted for my ex-husband!"
A Garland
Download Our Brochure
For further information about Family Mediation, download our brochure.
Serving family law clients across Bucks, Berks, Herts & Middlesex
Our specialist family law solicitors serve our clients across Bucks, Berks, Herts and Middlesex.
Some clients work with us remotely, others we can visit at home or they can visit our offices in Amersham, Beaconsfield, Berkhamsted, Chesham, Chorleywood, Gerrard's Cross, High Wycombe, Rickmansworth or The Chalfonts.
Wherever you are, let Breakthrough Family Law provide you with the specialist advice that you need.
Make An Enquiry Today
To ensure you receive the best family law advice available, please call us now on 01494 776 696 or Make An Online Enquiry and we will get back to you right away.
We inspire trust and confidence in our clients by offering high-quality advice in a clear, straightforward and compassionate manner.
"Very quick turnaround, clear and sensible approach and very supportive!"
S L